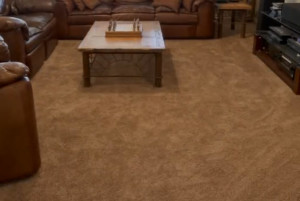 Carpeting your home either partially or fully is something that compliments and completes the design of your home. The design and color of your carpet are not the only things that one should consider when buying one. There are other vital pieces of information that one should have access to in order to buy the perfect carpet such as the fiber and durability.
Features of a good carpet
The fiber that your carpet is made of is more important than you would think as the fiber determines the texture, ability to accept color, stain resistance and soil resistance. Nylon which is the most commonly used fiber in carpets is soil resistant which is essential while polyester is the softest fiber available with the ability to accept color extremely well. Olefin fibers are usually highly stain resistance while wool is easy to stain and considered the most luxurious and colors well.
Fiber density is another factor that one should consider as the higher the density the longer lasting the carpet will be after years of thinning and shedding. The face weight of the carpet is simply the amount of fiber that is put on the carpet. The more fiber on the carpet the better but some manufacturers fluff the carpet to make it look like it has more face weight but the actual way to determine a carpet's face weight is to actually weigh it.
Benefits of a carpet
Besides adding beauty to the design and style aspects of your home or desired location a carpet also provides a healthy aspect by reducing the amount of dust, particles and allergens suspended in the air. A carpet will also reduce the amount of injuries in your home caused by slips and falls. A carpet also aids in reducing the amount of noise in your home as it absorbs the sound rather than amplify it and reduced the amount of noise that travels to the rooms below.
Regardless of the specific type of carpeting you eventually choose to go with, we at Sharon Kay Flooring Concepts are here to help. Call us today at (856) 275-3338 and ask for Aaron. We are here to provide the absolute best in affordable and high quality installation from any carpeting contractor in your local area. Please do not hesitate to get in touch with us if you have any questions!
Sharon Kay Flooring Concepts
Carpet contractor sales and installation carpeting for your home
49 E Pittsfield St Pennsville NJ 08070
Tel:(856) 275-3338
http://www.sharonkayflooring.com/carpet/
Service areas include: Pennsville 08070, Penns Grove 08069, Salem 08079, Swedesboro 08085, Carneys Point NJ 08069, Vineland 08360 08361 08362, Woodstown 08098, and other Tri County areas