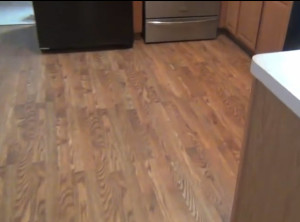 Laminate flooring combines the appeal of hardwood floors and a scratch resistant clear laminated protective surface. The growing popularity of this type of flooring is a true testament to the attractive features one is offered. It is offers the most realistic looking wood flooring among all the synthetic flooring options around with the ability to imitate different types of wood designs including texture.
Benefits attained
The cost of laminate flooring is one of the most attractive features of this type of flooring. Its synthetic nature makes the cost of making this type of flooring low which translates in the retail pricing. Its laminated nature makes it extremely easy to clean due to its smooth nature and the lack of spaces in between panels where dirt and particles might get trapped. The long lasting nature of this type of flooring is a great a benefit that you gain due to is stain, scratch and impact resistant nature that offers while also not being susceptible to fading.
This is the best type of flooring to install if you have children and/or pets or you or some of your family members suffer from allergies. This would be the right choice because kids and pets are messy so you need flooring that is extremely easy to clean and also stain resistant. Laminate flooring also does not absorb dust ensuring that your allergies or those of your loved ones do not act up. Despite the many benefits offered easy installation is also added on to them with the ability to self-install them.
Recommendation
This one of the best flooring options in the market with the ability to with stand high amount of pressure without being damaged and the added advantage of being a green option. The down side is that is not easy repairable unless you have the type that is in pieces that you can replace. It is therefore wise to buy a type that comes in pieces to ensure increased longevity.
Regardless of the specific type of laminate flooring you eventually choose to go with, we at Sharon Kay Flooring Concepts are here to help. Call us today at (856) 275-3338 and ask for Aaron. We are here to provide the absolute best in affordable and high quality workmanship from a local laminate flooring contractor. Please do not hesitate to get in touch with us if you have any questions!
Service areas include: Pennsville 08070, Penns Grove 08069, Salem 08079, Swedesboro 08085, Carneys Point NJ 08069, Vineland 08360 08361 08362, Woodstown 08098, and other Tri County areas