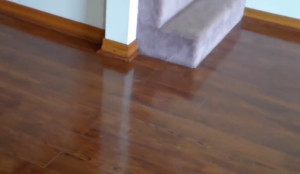 Normally, manufacturers treat hardwood materials with finishing in order to protect them against discolouration, stains, and water penetration; and often, these treatments are usually applied to the materials after they have been installed on the subfloor. However, contrary to this known norm, manufacturers of late have been seen to treat the wood with finishing treatments before shipping. As explained by them (the manufacturers), finishing the wood before shipping provides it with a number of advantages. In this article, we will be discussing in details about a number of prefinished hardwood flooring benefits and briefly; what to look for when buying prefinished hardwood flooring.
Advantages of prefinished hardwood flooring
Finishing the wood before shipping offers the wood with the following advantages;
. Durability – To achieve this, the manufacturers often use very powerful chemical sealers, which are not typically available to on site contractors. These sealers consists of aluminium oxide crystals implanted in a UV cured urethane coat and warranty for 5-25 years, or even more.
. Installation – Prefinished hardwood is pretty easier, and conveniently quicker to install unlike other flooring methods which involve sanding on the site. In addition, once they are installed, they are ready for use unlike other flooring options that usually demand that certain duration is spared before they are used.
. It works well for both worlds – Finally, prefinished flooring grants you the liberty to finish it in any way you find pleasing. You can even decide to add your own finishing on top of the one applied by the factory, adding to it not only color, but also durability. Be glad to know that, you can festoon it with any embellishments of your like so as to suit your taste.
What to look for when purchasing for prefinished hardwood
Given that the market is dynamic, there are actually myriad of hardwood materials from which to choose from. Under this segment, we will be outlining a few key things to look for when purchasing for hardwood flooring materials. They include:
Color
This entirely depends on ones taste and preferences. You are at liberty to choose any color whatsoever so long as it is in line with your taste.
Width
When it comes to width, wider width always seems to serve well. Remember, wider planks usually results to fewer visible seams on the floor, in addition, they perfectly showcase the natural, rather beautiful form of the wood.
Species
Species are also available in plenty; there are domestic species like cherry, oak and maple as well exotic species such as bamboo, cork and cherry. The main determinant of which species suits you best include things like; your budget, and your taste, to mention but few. Currently, exotics are quite popular owing to their distinct color and grain pattern.
Other things to consider when purchasing prefinished hardwood include; texture and cost.
Conclusion
If you choose to install prefinished hardwood flooring, you are advised to take into consideration the moisture content of your house in order to prevent the wood from decaying due to dampness. Finally, be sure to involve an expert during installation in order to avoid wastage of material and later inconveniences.
Regardless of the specific type of prefinished hardwood flooring you eventually choose to go with, we at Sharon Kay Flooring Concepts are here to help. Call us today at (856) 275-3338 and ask for Aaron. We are here to provide the absolute best in affordable and high quality installation from a prefinished hardwood flooring contractor. Please do not hesitate to get in touch with us if you have any questions!
Sharon Kay Flooring Concepts
Hardwood and Bamboo Flooring contractor, sales and installation service.
49 E Pittsfield St PennsvilleNJ08070
Tel:(856) 275-3338
http://www.sharonkayflooring.com/prefinished-hardwood/
Service areas include: Pennsville 08070, Penns Grove 08069, Salem 08079, Swedesboro 08085, Carneys Point NJ 08069, Vineland 08360 08361 08362, Woodstown 08098, and other Tri County areas